After roughly 2.5 years I've left Europe for the second time - this time going in the other direction, to Costa Rica and Cuba. The planned itinerary was: Munich to Madrid on the 8th, Madrid to San José on the 9th, roundtrip in eastern/northern Costa Rica, then San José to Havana on the 18th, on to Trinidad on the 23rd, back to Havana on the 29th, going back to Madrid on the evening of the 1st, arriving on the 2nd and getting back to Munich in the evening.
08.02.2016
Flight to Madrid was scheduled for 19:05, so the plan was to be at the Munich airport at least 3h before that. Unlike on the trip to Asia in 2012 they wouldn't even open the baggage check in until T-2h - officially, so that was a bit early. Interestingly the self-check-in terminal computer thing only needed the passport to print the tickets (which was new to me), but it kind of malfunctioned. First passport yielded two boarding passes for one person (me), Munich to Madrid and Madrid to San Jose. Second passport yielded two tickets for one person (me again). On the next try the second passport yielded all four tickets, two per person, two per leg of the flight. Weird, but at least it worked. Everything was uneventful if a bit delayed until we were boarding and then got told in the tunnel to go back - technical problems. Sadly Iberia didn't manage to give sensible feedback on time and so the poor lady at the counter was being shouted at very quickly. With about 3 or 4 hours delay we landed in Madrid but there were already people in tears or very aggravated because they'd missed their connecting flights to Mexico (as far as I heard) and some other destinations. Pretty glad we chose to fly a day early, that would've sucked. Arrived at the Hotel (Be Live Diana Madrid Airport) at around 01:00.
09.02.2016
We had no breakfast booked at the Hotel, so took the early shuttle bus and searched for some food there. Don't remember the place's name, but they had quite tasty tortillas and you didn't pay 10 EUR for a snack and a coffee. Stocked up on water and waited for 11:40. That flight was indeed on time and so a 10h journey began. First time I had opted for the "legroom level: DELUXE" upgrade (but I think it cost me 35 EUR in addition to the 33 EUR for reserving a seat in general) and yes, while the place was freezing with no seat in front of you to shield you from A/C - totally worth it. Watched Skyfall and Pan and the food was surprisingly good. Sadly we got stuck in San José traffic and got to the hotel (Don Carlos) pretty late, getting dark outside already and the guy from the travel agency had to wait for us to arrive.
Had dinner at Cafe Mundo - food was very good but the first in a long streak of venues without prices for drinks on the menu.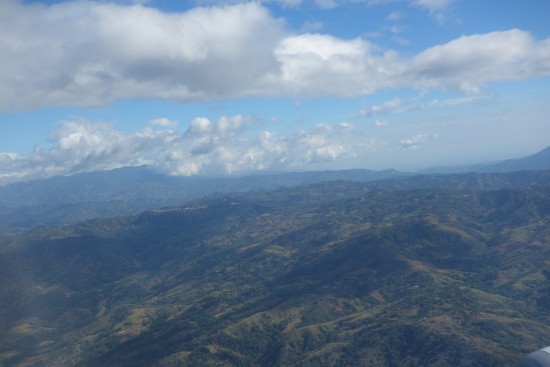 10.02.2016
Early start with breakfast at 7:00. But it was pretty good - learned about Gallo pinto. We were picked up at 7:40 and were to go to Irazú Volcano and met some nice people on the tour. Sadly the weather was not good (read: horrible) and we saw a wall of fog instead of the crater. Plus it was roughly 6°C and raining - lovely. But at least the landscape and the rest of the trip was good - visited Cartago and the Basílica de Nuestra Señora de los Ángeles. Then a little scare because all the first 50 photos from the first SD card seemed to be gone (but could be recovered later). Then the Jardín Botánico Lankester [I'm going to regret trying to reproduce all á and í correctly very soon I guess]. We were left behind at the lunch restaurant (in the Orosí Valley I think), to be picked up for the next part of the journey. That's about when it started to rain most of the time. After a bit of driving we arrived at Hotel Villa Florencia in Turrialba, which was pretty awesome with a terrace with a sofa on it right into the forest, sadly a bit remote so only a bit of walking before heading to the hotel bar for a snack and a beer or two.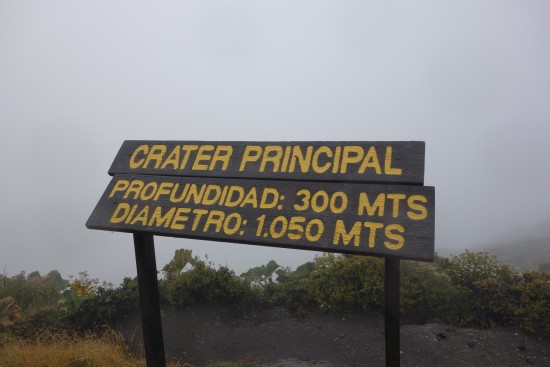 11.02.2016
Got up at 5 (wait, wasn't this supposed to be some kind of vacation?), very quick breakfast at 6:15 (because nobody had told us we'd be going to a place where we would have breakfast, so we asked to have something before the official start time...) only to discover that because of the rain and the condition of the roads our transport would be late 30mins. Oh well, gave the poor cook/bartender we had stressed for nothing some extra tip and hoped she wouldn't hate us too much. Were dropped of at El Ceibo in Guápiles to be transferred to another bus at 8:30 - there was the breakfast nobody had mentioned. Met two nice British couples and waited for the other people to arrive. And waited. And waited. Again it seemed to be the roads (a real landslide that blocked one or more roads, actually) and at 11:30 we were on our way. Saw a sloth (actually, a wet ball of fur in a tree - but I swear it was a sloth. And didn't move). Arrived at Tortuguero and went to Evergreen Lodge by boat. Went on a trip to the village, saw a lot of animals, were soaked by the rain and had a quick glance at the Caribbean Sea.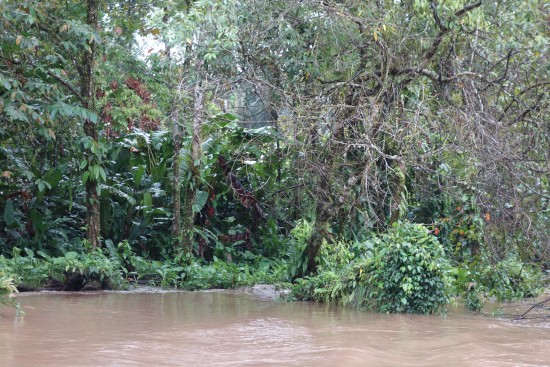 12.02.2016
Alarm at 4:45 (hey, what was that with the vacation?) and got some coffee (yay). The boat trip should start at 5:45 but apparently everyone was late - the French tourists, the French guide, our guide... Then I noticed I had forgotten our tickets in the room and did a not very smart sprint across wet tiles and back, but was quick enough and didn't slip. Then we again waited at the national park's ticket counter until 6:30, but at least it stopped raining and the trip was pretty good. Just no alligators to be seen. :( Breakfast at 8:30, then we should've been picked up by the boat at 9:30... which turned into 11:55 and another meal at El Ceibo at 15:00, where a lot of drivers were already waiting for their passengers, so hooray for 10 minute lunch. Again 2h of driving and we arrived at Hacienda Pozo Azul. Had a quiet evening with a short hike and a beer afterwards. The "hotel" was a bit weird as in that you sleep in a tent - but it's a big army tent with a real bed inside and a little brickwork bathroom extension. Not too bad, but I prefer real camping or a real hotel room. Maybe this is for people who never have been living in a real tent for a week?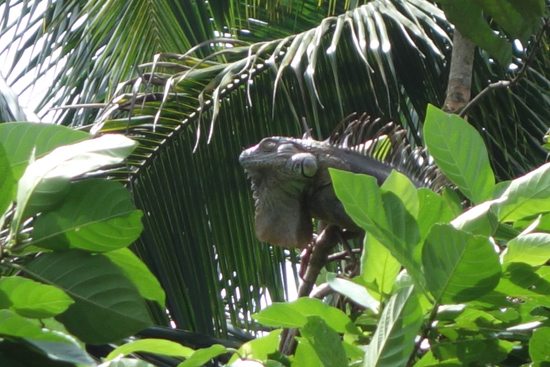 13.02.2016
Alarm at 7:15 - awesome. Breakfast in an open space room and swamped by flies and other insects, ah well, at least also a lot of hummingbirds and butterflies in sight. Then when you think you have already adjusted that everything is always a few minutes late here you want to be there exactly on time and not earlier... then someone's waiting for you, if only a few minutes. Anyway, I'm on a horse! And it was surprisingly fun after all those years (must have been around 20 years if I'm not mistaken) - just that they had trained them to accelerate only on some kind of smooching churping sound I didn't seem to be able to create and no leg queues at all and so my horse was the only one that only ever followed the others and never sped up on my command. At least decelerating worked. Back to the hotel, packing up things (wait, is this really the fifth hotel in five days already?) and waiting for the transfer - which is late, again. At least the reception could call them and ask, so the nagging "will they arrive at all?" was settled. That trip was a bit longer again then and it was nearly dark when we arrived at Lavas Tacotal - which is not in La Fortuna at all, despite their claims. At least for me 12km to a smallish town is not "in" - but at least there's a great steak house across the road. Actually that's all there is.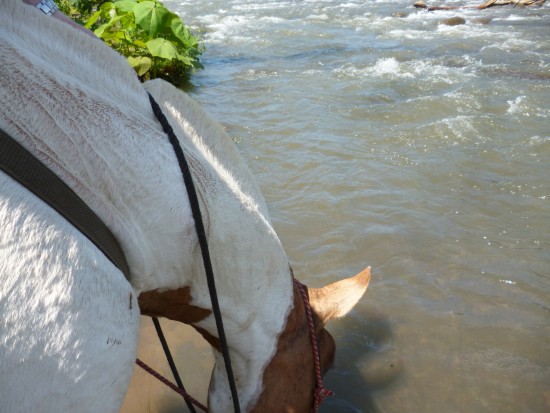 14.02.2016
Hotel staff gave highly conflicting answers how much a taxi would cost and as it was Sunday morning and we didn't even know if shops in La Fortuna were open or the interesting sounding thing in the other direction was open... we spent the morning watching birds near the hotel, was also nice. At around lunch time we were picked up for a tour to Arenal Volcano and gladly the weather was better. Again we were lucky with a pretty nice small group of people for that. After that we were driven to some hot springs (all we knew, not which ones) - turned out to be EcoTermales, which are apparently the famous ones. Nice misunderstanding when being picked up again: "Where did you go now?" - "EcoTermales" - "Oh, wow, we tried to book that but it was already fully booked. When did you organize that trip?" - "Hm, back in November." - "WTF?" - "And they told us we were pretty late already, with travelling to Costa Rica from Germany (and not the US)" - "W T F?" - "Oh wait, you meant the hot springs? Were part of the trip package, so yes, still November, but accidentally" - "...".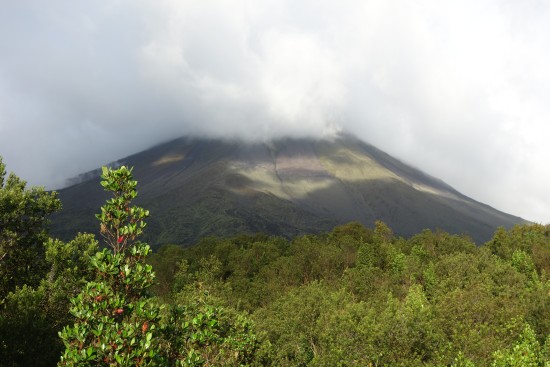 15.02.2016
Transfer to San Jose to Hotel Don Carlos again. Let the sightseeing begin. First a coffee at Cafe Miel, then to the Casa Amarilla, Parque España, Jardín de Paz and Parque Morazán. Railway station, Edificio Metalico, Plaza de la Libertad Electoral, Parque Nacional, Teatro Nacional, Teatro Melico Salazar and Catedral Metropolitana, then off to the Mercado Central. Had a very good Guaro Sour at the hotel bar.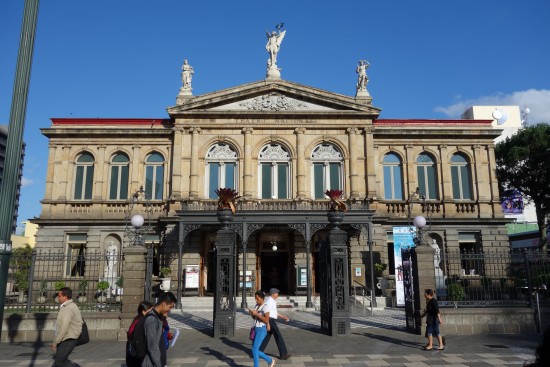 16.02.2016 - 17.02.2016
Spent 2 or so hours watching butterflies at Spirogyra Butterfly Garden, then more sightseeing, drinking coffee and aimlessly walking through town. As we'd never been to the US and were quite curious we stopped by at the Taco Bell in Calle 5 for a light lunch one day. Wasn't bad, but nothing special, as expected. I don't remember on which day, but we went to La Criollita for dinner twice because it was very good, moderately priced and close to the Hotel. Whereas the oddly (for Non-Germans) named Stiefel Pub was pretty awesome, as they had some local microbrews on tap according to our guide book - and they didn't disappoint. They have a small wooden board with 4 smallish tasting glasses, so we got to taste 8 different beers for ~20 EUR. I forgot to take a photo and my Spanish is not good enough, but they had a picture of Das Boot and apparently there would have been some beer for sale in it, it kinda fits their name. We also visited the Mercado La Coca Cola (in the district of the same interesting name), which was definitely different than the Mercado Central - a lot less souvenir shops, a lot more "real" shops like small hardware stores, electrical stuff (as in cables and parts) and so on.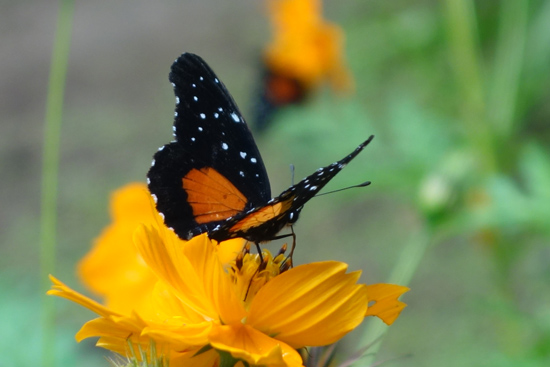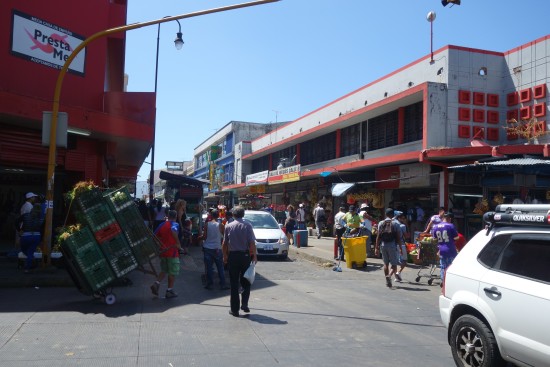 18.02.2016
Time to say goodbye to one of the -if not the- most awesome countries I've visited so far. :( Plane is scheduled for 11:40, so we had moved our transfer to one hour earlier because of the traffic we had experienced when arriving and the morning was wasted anyway. Turned out to be not only unneeded, but pretty much unneeded. Even when arriving and checking in our luggage the plane was rescheduled to 12:40 already. So at around 12:40 we got transferred to the plane at the very end of the airfield only to be told to get out again after a while because of technical problems. Back at the gate we were told to grab lunch at a restaurant a few gates away with a "please be back in 20 minutes." And while we were with the first bunch that arrived there apparently the choice of seating was very poor as the first people after us already got their food when the waiter finally noticed us. But then the ground crew of Cubana also arrived and took a seat, so apparently there was more time than 20 minutes. In the end the plane was 5 hours late to start and instead of 15:00 we arrived at around 20:00 I think. Then it took another 1.5-2 hours to get our luggage. Also a record I think. And only a little taste of what should await us in Cuba :P